I love Italian food but had NEVER made meatballs before. I know, I couldn't believe it either...
So Tuesday night, I was browsing through Giada's cookbook, Everyday Pasta, saw a recipe for turkey meatballs and kind of went from from there. Actually, the way I made mine didn't even involve turkey...but they were AH-MAZING!!!
Take that Giada!!!
Totally kidding :) Love her!!
I served them with mostacciolli, spinach and goat cheese salad and Italian herb, parmesan bread.
HELLO!? Can you say DELISH???
I've been obsessed with goat cheese ever since I made the Steph's Special...
Anyways...here it goes!
Meatballs Ala Steph
1lb hot ground Italian sausage
2 teaspoons minced garlic
1/2 medium yellow onion, finely chopped
1/2 cup Italian breadcrumbs
1 teaspoon each, salt/pepper
Preheat oven to 450 degrees.
In a small pan, heat olive oil over medium heat and cook onions and garlic until tender.
Mix all ingredients, by hand, in a large bowl until everything is blended together.
I used disposable rubber gloves. GREAT to have on hand under the kitchen sink...for times just like this!
Roll in balls and place on a greased, foil lined baking sheet and bake for 20 minutes.
Makes 16 large meatballs.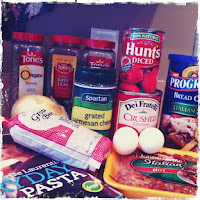 Turned my head and oops.... an egg rolled off the counter!
VOILA!
You can serve your meatballs with any pasta of your choice. I chose mostacciolli because that is what I had on hand...I used my own sauce that I canned over the Summer but you can either make a simple sauce

~see below~

or use your favorite jarred :)
Place the meatballs in the sauce while the pasta is cooking and continue to simmer the sauce.
When the pasta is ready, spoon sauce over the pasta and mix well. Top with the meatballs and serve!!!
Italian herb & Parmesan bread
for bread machine
1 box country white bread mix, I used Krusteaz
1 teaspoon each, dried parsley, dried oregano, dried basil
1 tablespoon grated parmesan
Follow directions according to package except before adding the yeast, add the herbs and cheese.
Simple Sauce
1 28oz can crushed tomatoes
1 28oz can tomato sauce
2 tablespoons dried oregano
2 tablespoons dried parsley
2 tablespoons dried basil
2 teaspoons crushed red pepper
2 teaspoons garlic salt
1 med yellow onion, sliced
4 garlic cloves, minced
salt & pepper, to taste
a splash or two of red wine, if you have one open on hand
Heat a splash of olive oil in a large saucepan over medium heat, saute the onions and garlic until translucent.
Add the remainder of the ingredients and simmer for about 1 hour.
PS-These meatballs would make an AH-MAZING meatball sub.
Well, I guess I will sign off for now...hope everyone has a delicious day!
Pin It